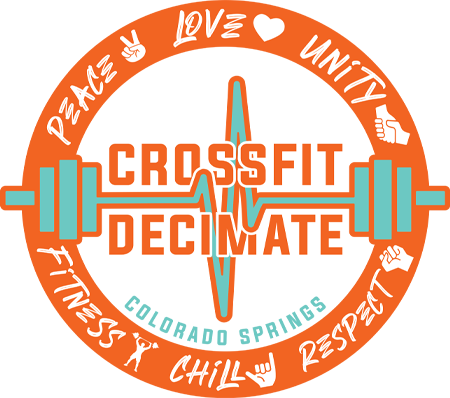 Monday – Friday: 5:00am-7:30pm
Saturday: 9:00 am- Team WOD/10:00am-12:00pm Open Gym                                 
      Sunday: 10:00am-Oly/11:00am-1:00pm Open Gym
Lose Weight &
Gain Strength
Join a community of people working hard every day to live a better quality of life, and have fun doing it!  At CrossFit Decimate, we provide inclusive programming, individualized modifications, and top-trained coaches to give you the best fitness journey  to fit your lifestyle.
CrossFit L-1             Host Affiliate
Getting Started or Dropping In
All Welcome to Join
for a Single Session.
Contact us to set up your free trial.  Experienced CrossFit athletes only.
Two 90 Min Fundamentals Classes
($145 First Month 3/Day a week Membership)
($95 Reoccurring monthly)
($195 First Month Unlimited Membership + Two 90 Minute Fundamental Classes )
($145 Reoccurring monthly unlimited )
We are near the crossroads of Powers Blvd and Palmer Park Blvd. East on Palmer Park Blvd at the corner of Tuskegeee Pl.
Monday - Friday: 5:00am-8:00pm
Saturday: 8:00am-12:00pm
Sunday: 10:00am -1:00pm
6150 Stadia Court Colorado Springs, Colorado 80915
(Directions)